Make your dream kitchen a reality!
Haddon Kitchens is a family-owned business that has been creating designer kitchens for over 35 years. We have years of experience renovating kitchens and only use state-of-the-art, superior cabinetry and components. We source our components from Farmers Doors, which is recognised as a leader in their field and is an award-winning Australian company. Have the Country Kitchen you always dreamed of with Haddon Kitchen and Cabinets, give us a call today.
Kitchen Renovation Enquiry
You don't have to live in a country area to enjoy the charm and beauty of a classic country kitchen. In fact, you can find this style and decor of the kitchen in many new vogue-built houses. A country-style kitchen, also known as a rustic or farmhouse kitchen, is inspired by traditional country kitchens commonly found in England and in rural or countryside settings. It's undeniable that when you walk into a country kitchen the design oozes warmth, with an unpretentious aura of simplicity and old-fashioned charm. One of the many unique features of a country kitchen is the exposed beams, which not only open up the space but are also used for hanging pots and pans. Depending on your climate zone a fireplace is also commonly found in traditional country kitchens, these two features help create a warm, inviting, and lived-in feel. Your kitchen is generally looked at as the heart of the home, and the center of family life, it's also where guests will gather for a cuppa and chat when you're entertaining.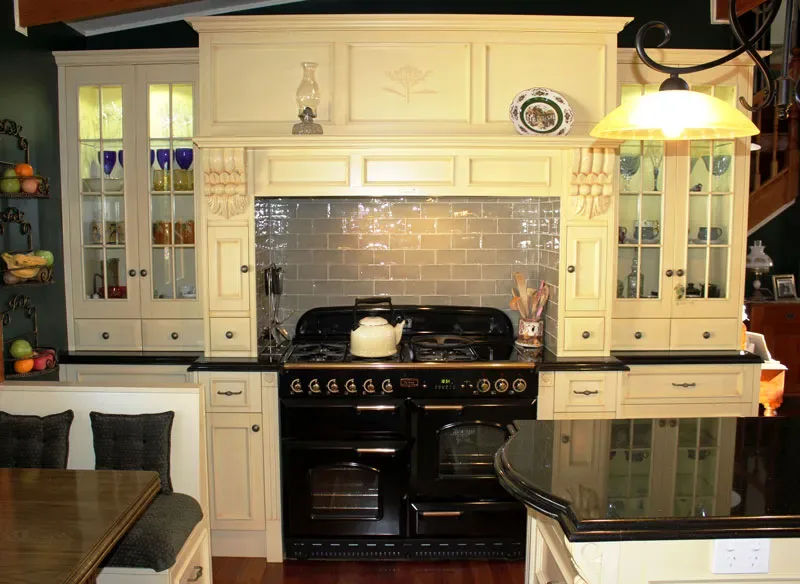 Classic Features of a Country-Style or Farmhouse Kitchen
A country kitchen embraces simplicity, nostalgia, and a feel that connects you to the natural world. Its traditional design creates a warm, inviting space, and old-fashioned charm, that is not only perfect for the family but also for guests. When you enter a country kitchen some of the key elements you will find include
Natural Materials: Country-style kitchens typically feature natural materials such as wood, stone, and brick. These materials are used for countertops, flooring, and cabinetry to create a warm and inviting ambiance.
Wooden Cabinetry: Cabinets in a country-style kitchen are often made of wood, and they may have a distressed or weathered finish to give them an aged and well-loved appearance.
Open Shelving: Open shelves, sometimes with brackets or brackets resembling wrought iron, are commonly used to display dishes, glassware, and other kitchen items. This adds to the kitchen's practicality and visual appeal.
Farmhouse Sink: A large, deep, and apron-front farmhouse sink is a classic feature in country-style kitchens. It not only provides ample space for washing dishes but also adds a touch of nostalgia and charm.
Vintage or Antique Decor: Country-style kitchens often incorporate vintage or antique decor elements, such as antique kitchen tools, old-fashioned signage, and rustic hardware.
Natural Colors: Color schemes in country-style kitchens tend to be earthy and natural, with shades of beige, cream, white, and soft pastels. These colors create a welcoming and soothing atmosphere.
Exposed Beams: If the kitchen is in an older home or designed to look like one, exposed wooden beams on the ceiling can be a striking architectural element that adds to the rustic charm.
Warm Lighting: Soft and warm lighting, often in the form of pendant lights, chandeliers, or wall sconces, enhances the cozy and inviting atmosphere of a country-style kitchen.
Textured Fabrics: Fabrics like gingham, toile, and floral patterns are commonly used for curtains, seat cushions, and table linens, adding a touch of country-style charm.
Natural Accents: Incorporating natural elements such as fresh flowers, potted plants, or woven baskets can bring a sense of the outdoors inside and complete the country-inspired look.
Functional Layout: Functionality is a key aspect of a country-style kitchen. The layout is often designed for easy access to cooking tools and ingredients, with a focus on practicality and convenience.
Custom Kitchens Brisbane
At Haddon Kitchen and Cabinets we not only take pride in our Country Kitchen designs we also design and create a range of other popular kitchen styles. To help with your decision feel free to visit our extensive kitchen showroom located in Narangba, alternatively, you can look at some of our country kitchen design projects in our Full Kitchen Renovation Gallery on our website. Our team of experienced designers has the expertise to tailor the kitchen to match both your home's design and your specific requirements, which may encompass:
Country Kitchens
American Colonial Kitchens
Contemporary Kitchens
Tuscan Kitchens
Victorian Kitchens
Custom Built kitchens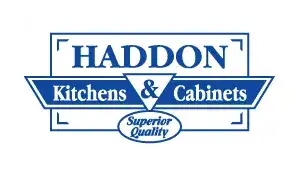 The finest in Country Kitchen Designers
Haddon Kitchens' team of cabinet makers can create your desired kitchen. Call 07 3204 0399 to speak to one of our dedicated team or complete our online inquiry form.
Frequently asked questions
How to choose kitchen lighting
Smart kitchen cabinet and storage ideas
Need small kitchen design ideas?