Looking for a new kitchen for your Brisbane home?
Whether your kitchen is old and outdated, lacking storage and bench space or falling apart, the Haddon Kitchens team are able to bring new life to your kitchen space in so many ways. We can both redesign and renovate your existing kitchen, offering you a whole new, fresh space for you to enjoy for years to come. We are experts on all the current kitchen trends and designs, allowing us to provide practical and personalised advice to each and every customer we assist. With a strong focus on your requirements and specifications we promise to deliver the kitchen you've always wanted, making your new kitchen dreams a reality. Call us today to learn more.
Kitchen Renovations Enquiry
What can our Brisbane kitchen renovation team offer you?
The Haddon Kitchens team has been creating kitchens for over 35 years, ensuring that we only offer top quality service and workmanship. We can assist with your Brisbane kitchen renovation every step of the way, including:
Discuss the colour schemes, design concepts and preferred materials.
Help choose the style of your kitchen.
Assist with arranging tradespeople, such as plumbers and electricians.
Discuss the appropriate kitchen layout for your needs.
Create custom cabinetry.
And this is just the beginning - our knowledgeable and approachable team are available to discuss all your kitchen renovation needs today.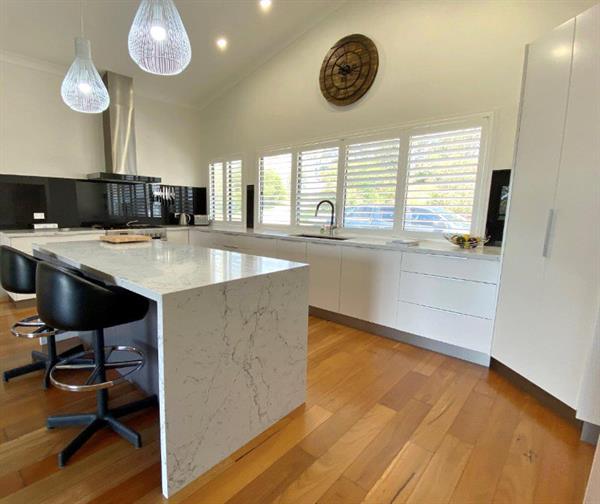 What is the kitchen renovation process in Brisbane?
The kitchen design process for Brisbane homes generally contains five steps:
Step 1: Have an appointment with you to discuss your thoughts, ideas and plans.
Step 2: The design process, where the Haddon Kitchens designers begin to digitally create your kitchen.
Step 3: Manufacturing your new kitchen.
Step 4: Creation of your custom cabinetry.
Step 5: Kitchen installation.
The full process can be found here - Haddon Kitchen Renovation Process.
What style and layout are best for your new Brisbane kitchen renovation?
When it comes to style, a new kitchen can be created in accordance with a huge variety of both designs and styles. Different kitchen styles can dramatically change the look and feel of the space, from open-plan for a 'clean and fresh' approach to a more 'intricate and formal' appeal. Having a design and style idea before you begin can assist with almost every other choice you make, with the most typical styles including French Provincial kitchens, Country kitchens, modern white kitchens, Hamptons style kitchens, and Provincial kitchens.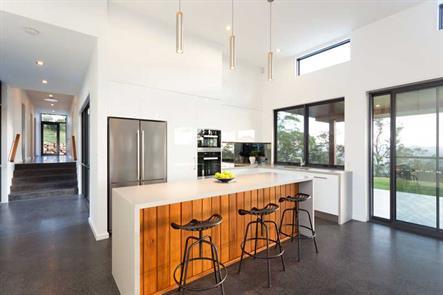 After you have decided on a design style it is then time to decide the type or layout of your new kitchen. There are many different factors that go into deciding which layout will be best for your home, including family size, number of cooks, will it open to a family room, and more. All of these factors will be discussed with you during the design process and prior to commencing work. As a reference we have compiled the five basic kitchen arrangements for you to view:
What considerations are there when it comes to renovating your Brisbane kitchen?
Once you have a clear idea of your style of kitchen, your next step is to give some thought to the following points, and the first point may determine how you view the others:
Budget - different budgets call for different solutions.
What kitchen fittings, taps, sink etc, are you going to use?
The size of your kitchen; how wide, long, and high do you want it to be?
Lighting - feature lighting over benches not only looks great but can be practical.
What kitchen appliances would you like installed?
For example, do you prefer electric or gas? Do you like stainless steel?
What type of splashbacks do you prefer?
For example - tiles, glass, stone. (Need some ideas? Check out our kitchen reno gallery.)
Remember the classic kitchen triangle - Sink-Stove-Fridge
Consider the size of the existing appliances which will need to be worked around such as your fridge or dishwasher.
What types of kitchen benchtop materials do you prefer?
For example, laminate, engineered stone or granite benchtops.
Consider kitchen colours and natural light.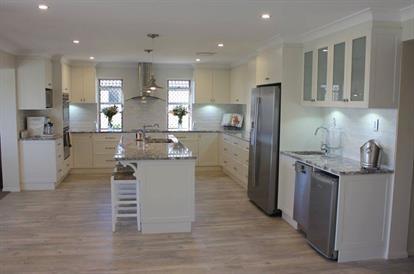 Speak to our knowledgeable Brisbane kitchen renovation team today
Haddon Kitchens is conveniently located in Narangba, Brisbane North. We welcome you to visit our stunning showroom to get some ideas when considering your kitchen renovation. Call us today on 07 3204 0399 or complete our online form for a quote and let us design your dream kitchen.
To see some examples of Haddon Kitchens and Cabinets transformations browse Our Projects or view our full Kitchen Renovation Gallery.
We cover the Brisbane Northside & Moreton Bay regions.
Frequently asked questions
Cabinet Maker vs Carpenter - What's the difference?
Do you have to seal granite benchtops?
How long does it take to renovate a kitchen?
Local Kitchen Renovations in Brisbane