Huge range of benchtops to choose for your Haddon kitchen renovation
IMPORTANT - Haddon Kitchens & Cabinets can provide a wide range of benchtops for our custom kitchen renovations . As we specialise in complete kitchen renovations, we do not supply 'benchtops only' for existing kitchens or DIY kitchens.
From modern look laminates to the elegance of natural stone and the durability of engineered stone, Haddon Kitchens has a variety of products on hand so you can be sure to find just what you are looking for. Combined with their quality cabinetry services they provide a one-stop shop for all of your kitchen renovations and new kitchen installations, managing your project from start to finish.
Kitchen Renovation Enquiry
Kitchen benchtop options
With a wide range of stone benchtops available, it is sometimes hard to know where to start looking and what product will suit you best. Haddon Kitchens have a wide range of stone benchtops available including:
Backed by years of experience Haddon Kitchens can provide you with practical advice when it comes to your stone benchtop selection to ensure that you get the desired stone that you are looking for.
With numerous colours and textures to choose from, laminate is still the most cost-effective material to have as your kitchen benchtop. Traditionally, laminate benchtops were manufactured with square edges and these can be seen emerging back into many modern kitchen designs. Rolled edge laminate or 'postformed laminate' benchtops have been used for many years and give a much softer looking edge to the benchtop.
If you are after a country kitchen feel or just enjoy the texture of wood, timber benchtops are the way to go. Often gaining personality as the wood wears from general kitchen use, timber benchtops can be great for busy family kitchens.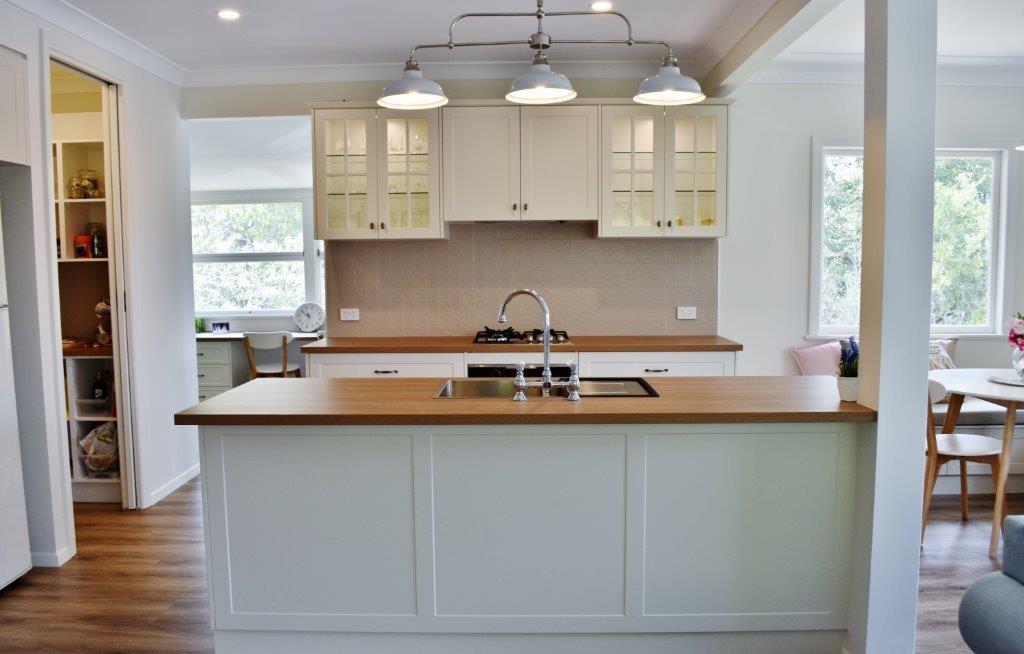 Most commonly used in commercial situations, stainless steel can still be used to good effect in home kitchen benchtops, often incorporating integrated stainless steel splashbacks.
Complete kitchen renovations in Brisbane north
For more information on your benchtop options call our friendly experienced team on 07 3204 0399 or complete our kitchen renovation enquiry form and we will contact you.
Frequently asked questions
Pros & cons of marble benchtops
Cabinet Maker vs Carpenter - What's the difference?
Do you have to seal granite benchtops?