Love working in your kitchen? Install Blum.
Haddon Kitchens & Cabinets have been using the Blum hinges and Blum drawers range of cabinet hardware continuously for over 35 years and will not recommend any other brand. The Blum name is synonymous with quality and a lifetime warranty is offered on the majority of their products. This gives our customers confidence knowing that our company use only the best available hardware for use in our kitchens and cabinets.
Just when you think hardware couldn't get any better, it does and Blum is always the first to do it.
Kitchen Renovation Enquiry
Blum Soft Close
With the Blum Blumotion 'soft close' action for cabinet door hinges to the Blum Tandembox 'soft close' drawers, Blum kitchen equipment continually lead the way. Blumotion enables doors and drawers to close softly every time. The 'touch to open' Blum Servo-Drive drawer system means handles on drawers can be a thing of the past, ideal for the clean, modern, streamlined look.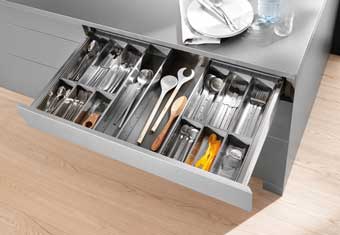 Blum Orga-line kitchen drawer inserts for organisation
The large range of Blum Orga-line kitchen drawer inserts for cutlery and utensil storage has the ability to organise your drawer space like never before. Bottle and lid dividers, spice trays, knife blocks and plate racks are just a few of the Blum Orga-line accessories available to keep your kitchen tidy and organised. Adapt the storage space to suit your individual needs.
Orga-line for high fronted pull outs - ideal for deep drawers
Orga-line for drawers - perfect for cutlery drawers of all sizes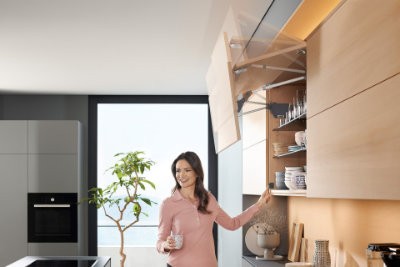 Blum Aventos lift systems
Another brilliant innovation is the Blum Aventos range , the bi-fold lift system for overhead cabinet doors. The exceptionally balanced movement of Aventos Servo-Drive ensures that the simple act of opening becomes an experience in its own right. Even heavy cabinet fronts are made to feel weightless and can be easily opened or left to hang at the desired height.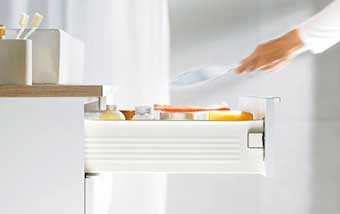 Blum Tandembox and Metabox
The innovative design elements of the Blum Metabox and Tandembox range (including Blum Intiv and Antaro) drawer runner systems feature feather-light glide and soft close options in a selection of styles and colours to complement any kitchen. Features include:
full extension for easy access and visibility
low friction rollers for feather-light glide
carrying capacity of 30, 50 or 65 kg's
effortless closing with Blum Blumotion
Blum Movento
Tired of banging kitchen drawers? The annoying sound can rattle even the calmest person. If you have been at the receiving end of this disruption - Blum Movento soft close drawers are here to save your day.
For more on Blum
Your local Brisbane Blum specialists
Include Blum hardware in your kitchen renovation . Call our team on 07 3204 0399 or complete our quote request form today.
Frequently asked questions
Pros & cons of marble benchtops
Cabinet Maker vs Carpenter - What's the difference?
Do you have to seal granite benchtops?