Stylish and Contemporary Kitchen Renovations Brisbane?
Looking for a great kitchen reno company that listens to you? We are the leading kitchen renovation company in Brisbane and Moreton Bay that can help you get the kitchen of your dreams. Our utmost focus is on making our customers happy so we work on the designs and layouts until you are happy. Once you give us the go-ahead we manage the entire process to ensure you get the kitchen you wanted with the minimum of fuss and disruption to you and your family.
Kitchen is the heart of the home and where you spend most of your time. So doesn't it make sense to have a kitchen you love? For a complete kitchen renovation, fill in a form or give us a call.
Kitchen Renovations Enquiry
Our Kitchen Renovation Process
Looking for a high-quality full kitchen renovation? Get started with the Haddon Kitchens team today.
Complete our quick online quote request form or contact us on 3204 0399
Our team will visit you at your home and discuss your vision
Based on your input, we will design the 3D layout for your kitchen and a detailed floor plan
We will provide you with detailed quotes and options so you can pick up a design you really like
Once you are happy with our designs and quote, we can proceed with the manufacturing Everything is manufactured in-house using only high-quality products
We will coordinate an installation date with you and organise the kitchen installation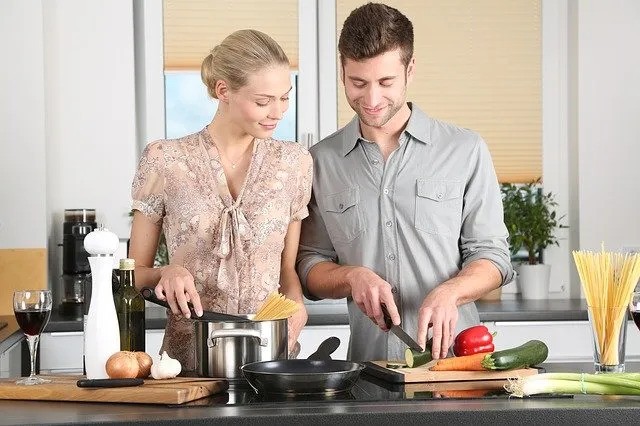 Why choose Haddon Kitchens for your Brisbane Kitchen Renovation?
Haddon Kitchens and Cabinets can cater for all budgets and requirements when it comes to kitchen renovations in Brisbane.
Haddon Kitchens are specialists in kitchen renovations on the Northside of Brisbane. For over 35 years, our family-owned business has been creating dream kitchens in Brisbane. Drawing on our experience and knowledge, we will give it a makeover that exceeds your expectations.
Kitchen reno is a big investment and we get that. Our team will support you every step of the way. We don't skimp on the renovation process - our kitchen designers use smart techniques and high-quality fixtures to make the best out of your existing space. We don't use shoddy materials and cut corners. Don't just take our word, check out our Kitchen Gallery and find out for yourself. Why not book in to visit our showroom located in Narangba, Brisbane North?
Kitchen renovations considerations
Once you have a clear idea of your style of kitchen, your next step is to give some thought to the following points, and the first point may determine how you view the others:
Budget - different budgets call for different solutions.
The size of your kitchen; how wide, long and high do you want it to be?
What kitchen appliances would you like installed? Do you prefer electric or gas? Do you like stainless steel?
What types of kitchen benchtop materials do you prefer? For example, laminate , engineered stone or granite benchtops .
What kitchen fittings, taps, sink etc, are you going to use?
What type of splashbacks do you prefer? For example - tiles, glass, stone. (Need some ideas? Check out our Kitchen gallery .)
Consider kitchen colours and natural light.
Remember the classic kitchen triangle - Sink-Stove-Fridge
Lighting - feature lighting over benches not only looks great but can be practical.
Consider the size of the existing appliances which will need to be worked around such as your fridge or dishwasher.
As you can see, there can be a wide variety of different combinations to choose from, making the costing of kitchen renovations vary widely. With detailed specifications, the costs of your kitchen renovation can be identified to ensure there are no surprises.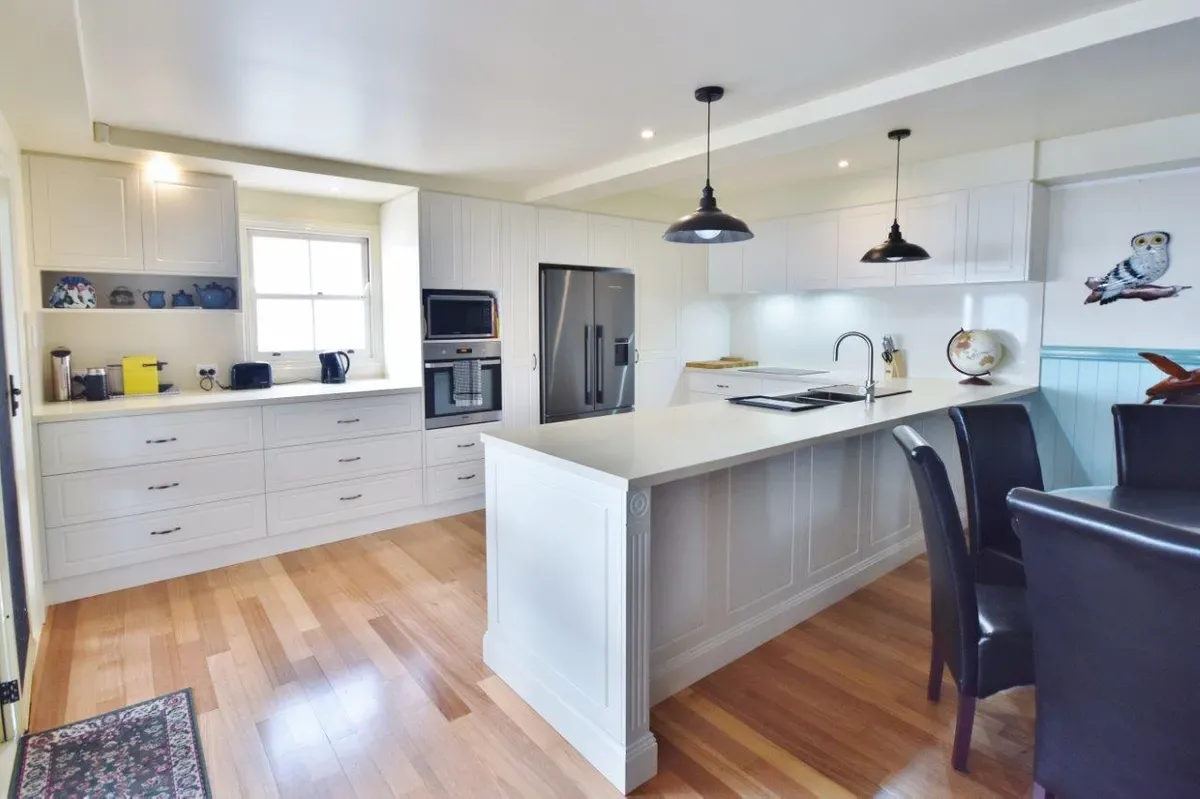 Choose your kitchen style
Just like clothes and furniture, kitchens come in many different designs and styles. Keeping in mind that a new kitchen costs more and lasts longest, choosing a style that suits you and your lifestyle requires serious consideration. Making the design and style decision first will help guide your choices in everything else from wall colour to cupboard doors. Typical styles to choose from include:
Modern white kitchens
Contemporary kitchens
Provincial kitchens
Choose your kitchen layout
When considering your kitchen renovation, decide on the design which will best suit your home, family and lifestyle. Take into account the size of your family, the number of cooks who may be in the kitchen at once, whether it's a separate kitchen or opens into a family room and if you want to include a casual eating area. There are five basic kitchen arrangements to choose from:
Kitchen Renovations Projects - New and Better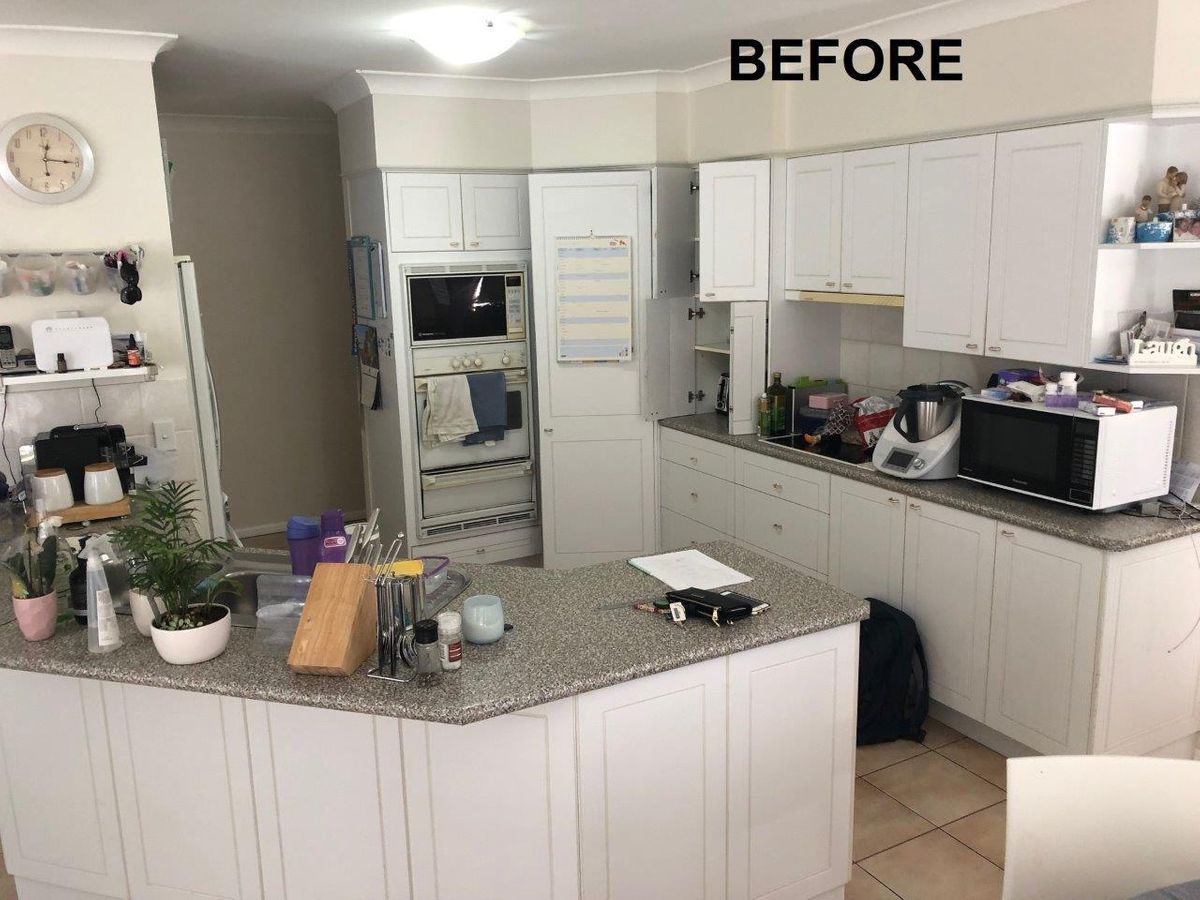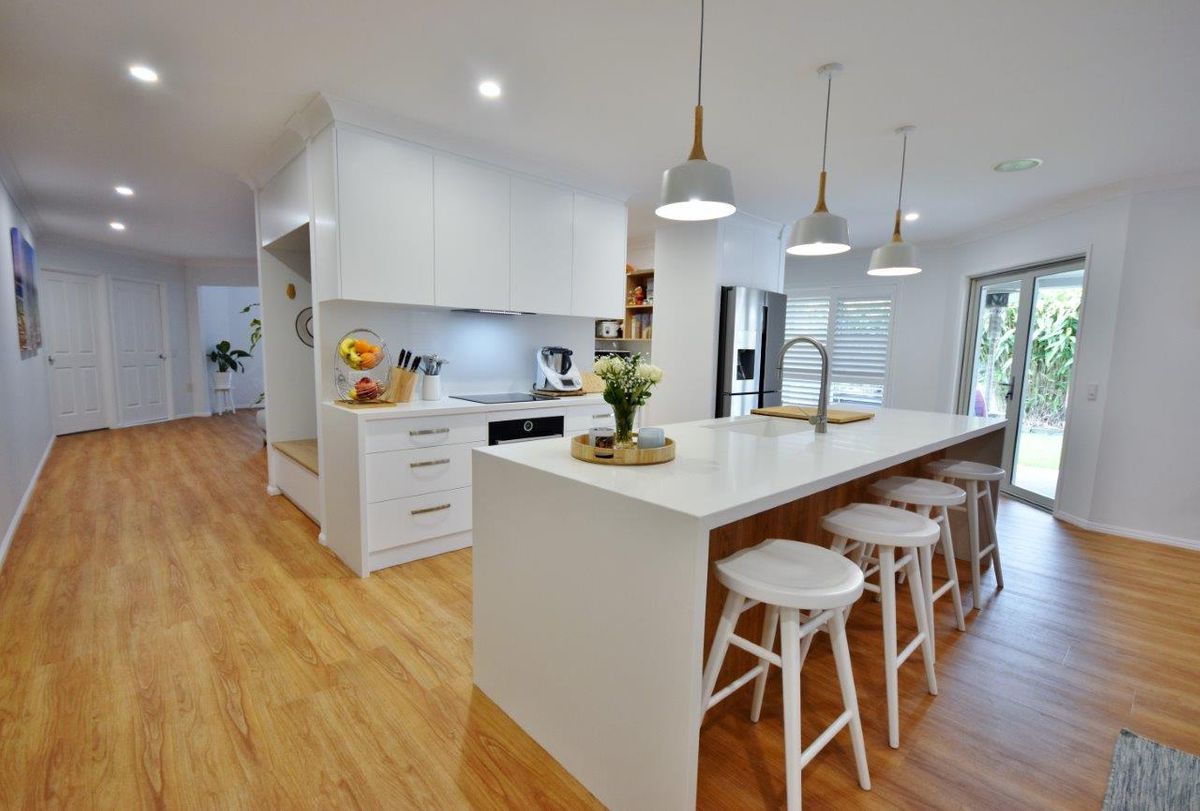 Kitchen Renovations Brisbane North and Moreton Bay
Haddon Kitchens manufactures their kitchen cabinets etc in Narangba, but complete kitchen renovations in the following areas:
Reliable and Professional Kitchen Makeovers Brisbane
Call us today on 07 3204 0399 or complete our online form for a quote and let us design your dream kitchen.
Frequently asked questions
Pros & cons of marble benchtops
Cabinet Maker vs Carpenter - What's the difference?
Do you have to seal granite benchtops?