French Provincial Kitchens
Is your kitchen getting run down or is cupboard space hard to come by? The kitchen is the heart of your home and kitchen inefficiencies and lack of storage can create headaches and make using your kitchen stressful and irritating. French provincial kitchens combine plentiful storage space with efficient and functional design to put an end to your kitchen headaches. Haddon Kitchens combines experience and attention to detail to tailor a French provincial kitchen to your home and needs.
Book an appointment at our Narangba showroom today to discuss your new kitchen with our team.
Kitchen Renovation Enquiry
French Provincial Style
French provincial kitchens are known for their ornate beauty and excellent functionality. They combine ornate fixtures and finishes with large cupboards to create an efficient heart for your home. Drawing their origins from the French countryside, French provincial kitchens are packed full of ornately sculpted skirtings, mantles and flutes. They are a reflection of workmanship and the more ornate the better these kitchens prioritised design and functionality above all else with expansive counter space, optimal lighting, and deep sinks.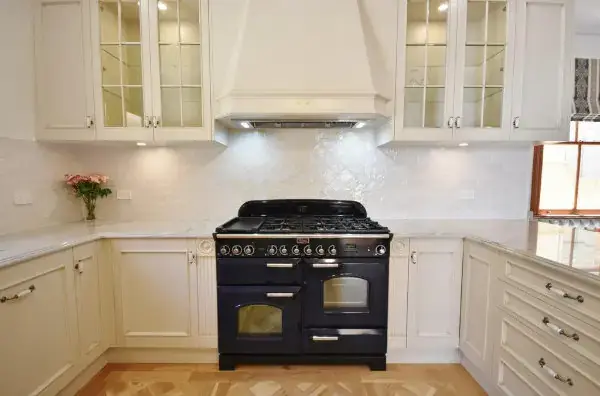 French Provincial Kitchen Design
French style kitchen designs can be broken down into a few major features that together make an impressive and refined kitchen for your home. These designs combine natural materials, delicate details, and excellent functionality to produce a stunning kitchen for your home whether as part of a renovation or a new home, our team is here to help.
French Provincial Kitchen Ideas
Our design team commonly suggest the following design ideas when designing a French provincial style kitchen.
A mix of Quaint, Country style and ornate glass cabinet doors. We supply Farmers Doors for our French provincial kitchens as they provide a clean modern finish to your kitchen.
Wrought iron handles to create a smooth and long-lasting finish to the cabinets.
A showpiece mantle to house the rangehood and provide a centrepiece for the kitchen.
Hand-painted finishes bring out all the minor details of your kitchen.
Framed cabinetry, end panels and splashbacks.
Dominate kitchen islands.
Functional farmhouse white porcelain kitchen sinks.
Stone, tile, granite, or timber benchtops to create a seamless finish to your kitchen.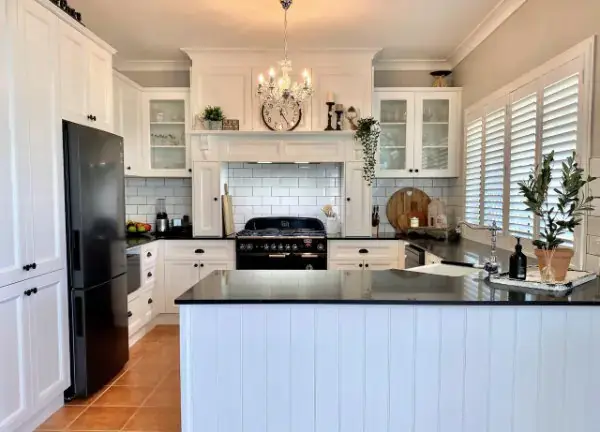 French Country Kitchen
French country kitchens are another name commonly used for French provincial kitchens. They have adopted this name as they are commonly seen in homes in the French countryside and draw similarities to farmhouse kitchen styling.
Modern French Provincial Kitchen
As kitchen design has modernised so has French provincial kitchens borrowing design aspects from modern kitchen designs. They combine modern induction cooktops and range hoods seamlessly with French provincial style kitchens to maintain the French provincial style. They also use less ornate fixtures and finishes while maintaining the same shape to create a discrete kitchen while maintaining the French provincial kitchen functionality.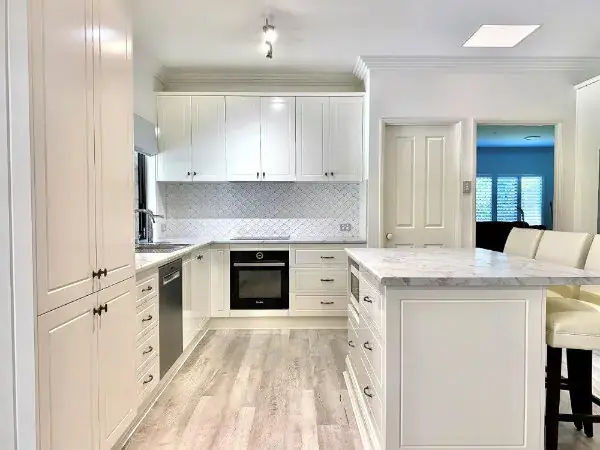 French Provincial Cabinet
All our French provincial kitchen cabinets are made by us in our modern workshop. We combine top-quality materials with top-quality hardware. We have used Blum's range of hinges and draw systems for over 35 years as they carry a lifetime warranty and we know they are of the best quality. All our cabinets and kitchens are tailored and made specially for your home to best suit your needs ensuring the longevity and efficiency of your kitchen.
French Provincial Kitchen Projects
Below are some of the recent French provincial kitchens we have completed.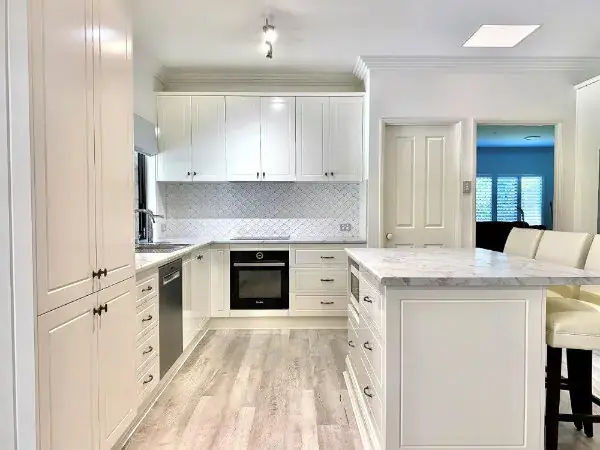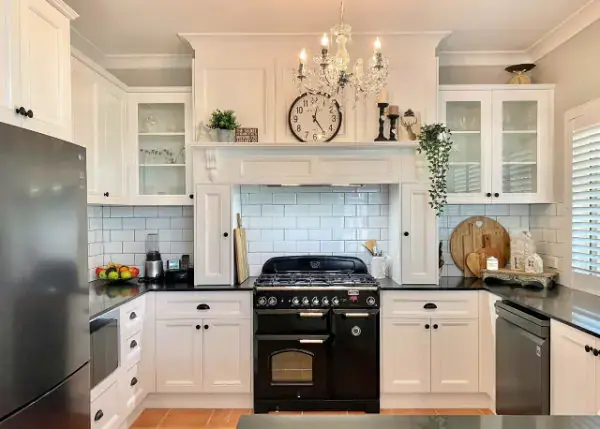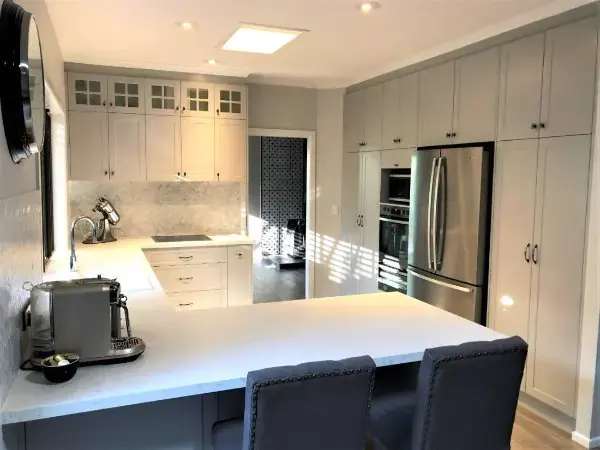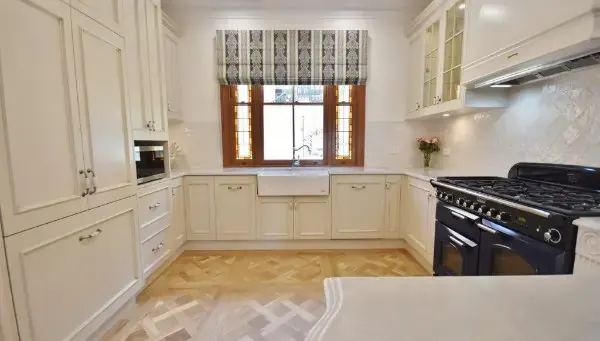 Frequently asked questions
How to choose kitchen lighting
Smart kitchen cabinet and storage ideas
Need small kitchen design ideas?