Let Haddon Kitchens breathe new life into your Kitchen
If you are renovating and finding it hard to decide what style of kitchen will suit your home, the skilled cabinetmakers at Haddon Kitchens and Cabinets can help. Our design experts will take the time to explain the different styles of kitchens and take into account what you hope to achieve, your home design, lifestyle, and budget in order to help with your decision-making. Get in contact with us today for expert advice.
Kitchen Renovation Enquiry
Characteristics of a Hamptons Kitchen
If you want to create a welcoming and inviting kitchen space A Hamptons Kitchen is for you and it's a perfect fit for Aussie homes. This chic and spacious, kitchen style works well for homeowners wanting an old-world charm in their homes. If you have ever wondered why this particular kitchen design is known as The Hampton, it is inspired by the coastal and relaxed atmosphere of The Hamptons, a group of affluent seaside communities on Long Island, New York. Hampton-style kitchens exude a sense of casual elegance with a coastal flair, combining classic elements with a fresh, relaxed, and beach-inspired ambiance,
This absolutely beautiful kitchen has distinct characteristics that make it unique, these characteristics are based on features including
Color Palette: Hampton-style kitchens typically feature a classic and timeless color palette that includes shades of white, soft neutrals, and coastal blues, to create a bright and airy atmosphere.
Cabinetry: Cabinet design is a central element of a Hampton-style kitchen. Cabinets are often shaker-style with recessed panel doors and are typically painted in white or soft, muted colors. Glass-front cabinets with decorative mullions are common for displaying fine china and glassware.
Countertops: Natural stone countertops, such as marble or granite, are often used in Hampton-style kitchens as they add a touch of luxury and elegance to the space.
Subway Tile Backsplash: A classic feature of Hampton-style kitchens is a subway tile backsplash. These tiles are usually white or light-colored and create a timeless and clean look.
Wooden Flooring: Hardwood flooring is a popular choice for Hampton-style kitchens, adding warmth and complementing the overall appearance.
Island: A kitchen island is often a focal point in Hampton-style kitchens. It may have a contrasting color to the rest of the cabinetry and can serve as both a functional workspace and a gathering spot.
Natural Light: Maximising natural light is essential in Hampton-style kitchens. Large windows, French doors, and skylights are a popular feature to bring in abundant natural light.
Coastal Accents: To evoke a coastal feel, Hampton-style kitchens may incorporate nautical elements such as rope handles, seashell decor, or subtle hints of beach-inspired accessories.
Traditional Hardware: Cabinet hardware is typically traditional and can include brushed nickel, polished chrome, or antique brass knobs and pulls.
Open Shelving: Open shelving, often with beadboard backing, can be used for both practical storage and displaying decorative items like ceramics, glassware, or coastal-themed decor.
Wainscoting and Beadboard: Wainscoting and beadboard paneling on walls and islands contribute to the classic and timeless look of Hampton-style kitchens.
Sleek Appliances: While the overall style is classic, Hampton kitchens often feature modern and high-quality appliances that blend seamlessly with the design.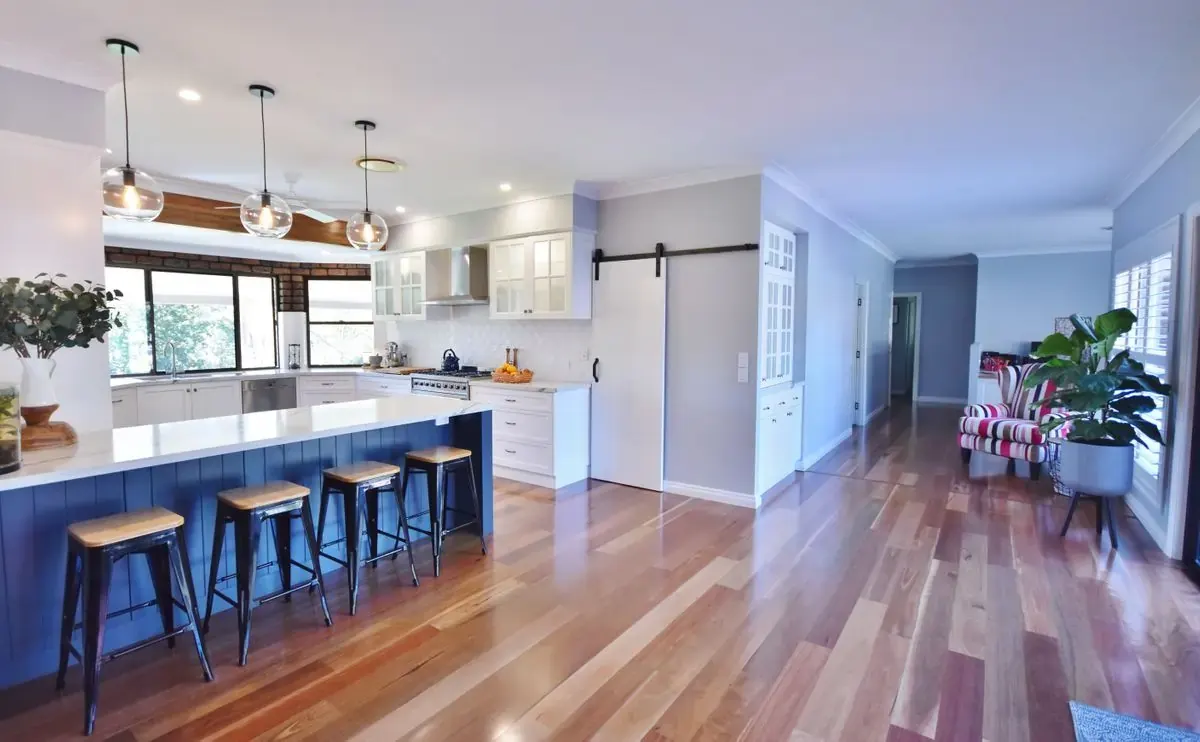 Exclusive Kitchen Designer Brisbane
Haddon Kitchens and Cabinets is one of Brisbane's most trusted and long-standing kitchen companies. Over the past 30+ years, our experienced team has undertaken hundreds of top-notch kitchen renovations in the Brisbane area. One of our most popular kitchen designs is the Hampton Style Kitchen, which our team of experienced designers can tailor to match both your home's design and your specific requirements, and budget. we also design and create a range of other popular kitchen styles including
Modern Country Kitchens
American Colonial Kitchens
Contemporary Kitchens
Tuscan Kitchens
Victorian Kitchens
Custom built kitchens
Local Kitchen Designers Brisbane
Haddon Kitchen and Cabinets oversee all aspects of Kitchen Renovations, including design, manufacture, and installation. Our team of designers and craftsmen can create your dream kitchen. Call 07 3204 0399 to speak to one of our dedicated team or complete our online inquiry form to initiate a return call.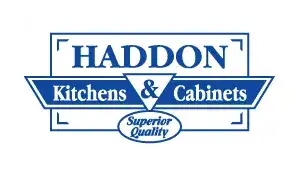 If you are interested in Hamptons-style kitchen and would like to see a display, visit our kitchen showroom located in Narangba on Brisbanes Northside.
Frequently asked questions
How to choose kitchen lighting
Smart kitchen cabinet and storage ideas
Need small kitchen design ideas?