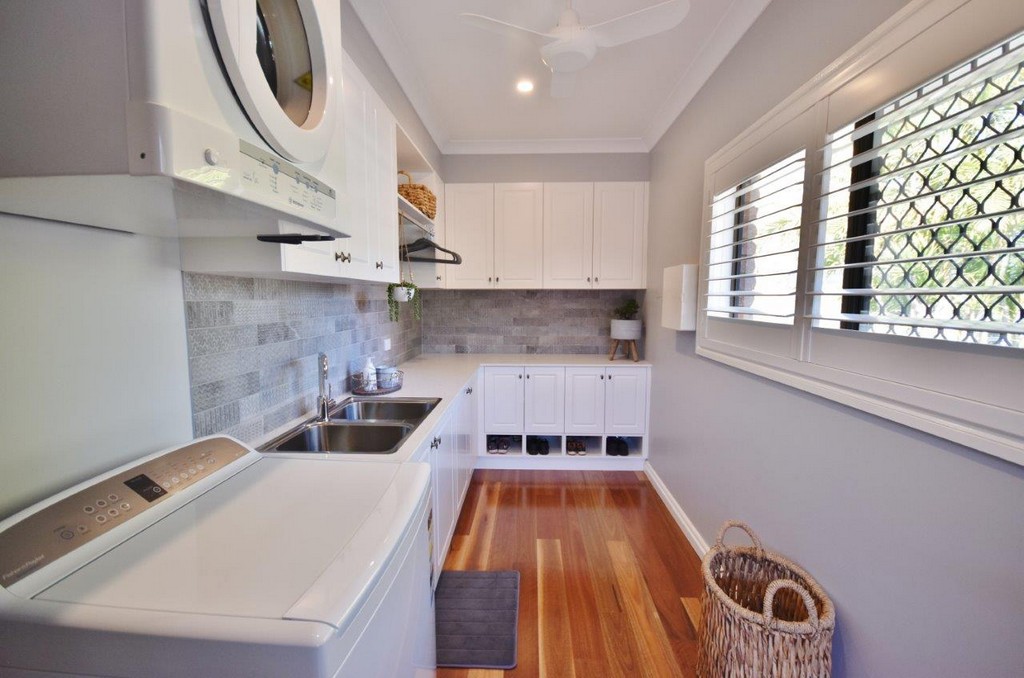 Clever Laundry Storage Ideas
Published: December 16, 2021 Last Updated: August 16, 2022
Is your laundry lacking in organisation? Does everything spill out onto the laundry benchtops? Do you constantly lose items of clothing in the dreaded 'floor pile'? Sounds like you need to rearrange your laundry and make some serious storage changes.
Laundries seem to be the place where everything ends up. The end of the line for things you can't find a place for in the rest of the house. Just throw it in and shut the door, worry about it later. Well, later comes. Usually when you want to find that lost shoe or sock when running out the door or the clean towel when you are dripping wet. Put these disorganised days behind you with some smart laundry storage.
New laundry renovations are incorporating so much more now than they used to, modern laundry storage solutions are endless.
Laundry cabinets of varying sizes are essential to house the motley collection of items that live here. A tall cabinet for the mop, broom and vacuum cleaner with hooks placed inside so items can hang, kept tidy and off the cabinet base, which can get damp and smelly.

It is amazing where clever cabinet makers can fit smaller cabinets. The space between the washing machine and the wall or the small area next to the window, can all be used for extra storage.
A hanging rail provides a handy spot to hang clothes straight from the dryer to minimise ironing. Alternatively, use some attractive hooks on the wall for hanging space.
Fold-out ironing boards save heaps of space and allow the board to be handy but not in the way. There is a vast choice of fold-away ironing boards, multi-folding for small laundries or larger units for the frequent ironer.
Using baskets in your laundry storage is a great way to keep like items together. These can be built into the cabinets or loose. Keep cleaning products, washing powder and stain remover, mending kit etc all in easy-to-find baskets. Open shelving is a great way to store towels or bulky items which get used often. Use these shelves to add colour to your laundry as well. Just because it's work doesn't mean it needs to be bland or boring.
Built-in pull-out tubs are great to use for washing powder or bins. Incorporate your laundry hamper or dirty clothes baskets into the cabinetry to save space. Multiple hampers can help streamline laundry by separating colours, lights and whites.
Large or small there are some great laundry storage solutions for your home. While planning your laundry renovation make sure you quiz your cabinet maker to ensure you make the most of your space.
Please note - Haddon Kitchens only offers laundry renovations in conjunction with a full kitchen renovation.