Things to consider when planning your kitchen
Published: December 16, 2021 Last Updated: December 01, 2022
Designing your kitchen so it is a functional, light, fun, and enjoyable room to work in takes careful planning. Ensuring you have fully thought out all your storage needs, appliance placements, workflows, bench space requirements etc can be daunting. We have put together some tips to help your kitchen renovation planning so you end up with the kitchen you always wanted.
Kitchen Planning Tips
Kitchen shape
Deciding which kitchen shape or layout will suit your home and the space available depends on many variables. A galley kitchen layout works really well in a small home or apartment, but can also be used to good effect in a larger space with the inclusion of an island bench. A smaller space can benefit from the L shape layout as it allows for a dining table which can also add extra bench space when needed. Larger homes can incorporate most kitchen shapes, however, care needs to be taken to avoid placing too much distance between the major workstations - cooktop, fridge and sink.
Flow
Having a kitchen that flows doesn't mean you need a stream running through it. Flow refers to the way people move through the kitchen. This includes everything from just walking in to get a drink from the fridge to preparing a full meal. You should be able to move freely through the kitchen from fridge to wash up to cooktop without having to negotiate obstacles such as large island benches, bins or other people.
Bench space
No one ever said, "I have too much bench space". Maximise your bench space by utilising clever storage ideas. Allow for a microwave cabinet, a toaster and kettle cupboard or a well-placed utensil drawer to remove all of these items off the bench and free up the space for food preparation or use as a breakfast bar. Also, plan for a bench area next to sinks and cooktops for easy use of these stations.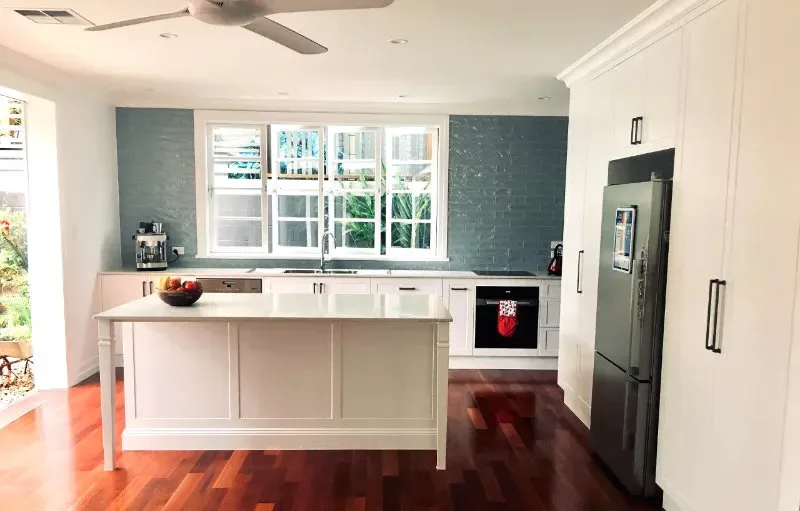 Doors and windows
Obviously, you need to work around existing doors and windows when planning your kitchen but don't think of them as obstructions. Benefit from your windows, doing the washing up is not such a bad task when you can look out onto the garden, keep an eye on the kids outside or better still enjoy the view of the ocean (we can dream). Doors allow interaction with the rest of the house. If your doorway opens onto the dining or living area consider opening up the space by making this a focal point of the kitchen.
Power Central
Nothing can ruin a beautifully designed kitchen easier than a lack of or badly placed power points. Consider where you will use toasters, mixers, coffee machines and other day-to-day small appliances and include ample electrical outlets.
Technology is creeping into our kitchens. Phones, tablets, laptops and games all seem to gravitate towards the kitchen when they need charging. Allocating a charging station away from wet or cooking areas will stop the cord web which can take over valuable bench space and power points.
A place for everything
Take a look at your existing kitchen and cooking equipment. Tailoring cabinet space and drawers to fit odd-shaped or bulky items such as blenders, large platters, baking trays and rubbish bins ensures you are making the most of all available space. Using a full shelf for one tray when a different cabinet configuration could mean you can fit multiple items in that space and stack trays upright or in a large drawer is just down to good planning.
Haddon Kitchens Design
Our team is a great resource to use when planning your kitchen renovation. We know the ins and outs of kitchen design and can give some great advice on your space and how to use it best. Plus a huge range of ideas you probably haven't thought of.
Give Haddon Kitchens a call for all your kitchen renovations in Brisbane on 3204 0399 or complete our Quote Request and we can help your kitchen come to life.