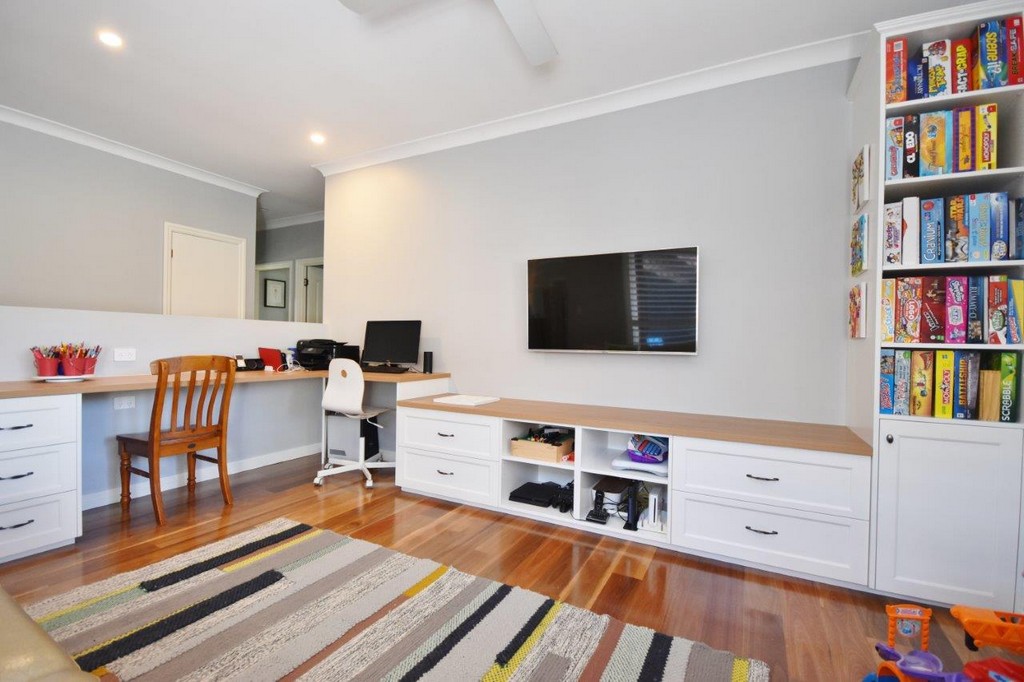 Tips on designing your custom entertainment unit
Published: December 16, 2021 Last Updated: August 16, 2022
Creating a custom entertainment unit for your home, whether it's for the basic TV and DVD player or the full modern media centre set up, means you'll have a place for everything and get the best from your entertainment system.
Knowing what to include in the design can be tricky as technology is moving so fast. An entrainment unit built 10 to 15 years ago would probably have a deep design to fit an old-style 'tube' television, with space for a video player or DVD player. That was about the extent of it except for the few which may have had space for the stereo system and a couple of box speakers.
Modern entertainment units
A modern entertainment unit layout needs custom cabinets to encompass a very different collection of audio-visual equipment.
TV
Television has grown, and continues to grow, in size in the last 10 years. Modern TVs vary in size from the relatively 'small' 21 inches to a mammoth 80-inch screen for the serious television enthusiast. However, due to the whisper-thin nature of current TVs, they can be easily wall mounted. This has often meant our custom entertainment units don't need to include space for the TV, the unit is used instead to house all the supplementary equipment.
DVD, PVR etc
Most home media systems include either a DVD, Blu-Ray, PVR or set-top box or a combination of a few. Electrical appliances give off heat so care needs to be taken to provide ventilation around these items as well as plenty of room for cords. Make sure you include a shelf or cabinet for each of these in your unit plan.

Games
Game consoles are a common sight in many Australian homes and definitely an item to include in the unit design. The array of shapes and styles within brands such as Nintendo, Playstation and Xbox varies a lot. Ensure cabinets allow for all the extra involved in gaming as well such as controllers, games, charging stations, headphones, etc.
Stereo
Filling your home with music no longer needs a lot of equipment. Gone are the days of the enormous stereo system and speaker sets. Now all you need is your smartphone and a speaker the size of a tub of butter to get the party started. More integrated systems can have multiple speakers and a full home theatre set-up can have as many as six or more.
CDs, DVDs, Records
Storage space for your compilation of CDs, DVDs, records or even tapes (admit it, you've still got a few) needs to be included in the entertainment unit. Don't forget to allow for the collection to grow if you are still an avid fan of the hard copy. Drawer systems work well to house these items without taking up excessive space.
Extra storage
You may want to include storage for other items such as bookshelves, display cabinets or just general household items depending on the space available when you have included all the entertainment systems.
Including adjustable shelving can ensure your custom entertainment unit will adapt to changes in media equipment without having to start all over again when you update your system.
Please note - Haddon Kitchens only offers entertainment units in conjunction with a full kitchen renovation.