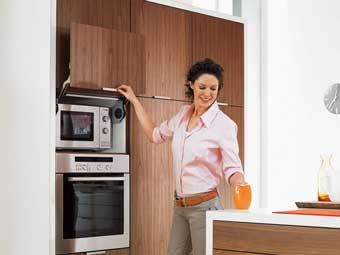 Blum Kitchen - Functional Kitchen
Published: December 16, 2021 Last Updated: June 07, 2022
Blum was founded on 1 March 1952 and has been going strong for more than 60 years producing high-quality kitchen hardware. Specialising in lift mechanisms, hinges and drawer systems, Blum's company motto is 'Perfecting Motion'. Blum believes that you should enjoy using your kitchen from the workflow to opening and closing every drawer and cabinet.
Blum Hinges
Ensuring your cabinet doors close effortlessly every time Blum hinges can handle any type of cabinet door. Even heavy doors are handled with ease when fitted with CLIP top hinges. Blum has also developed a Blum soft close system called Blumotion which is ideal for door slammers everywhere as it cushions the close regardless of force.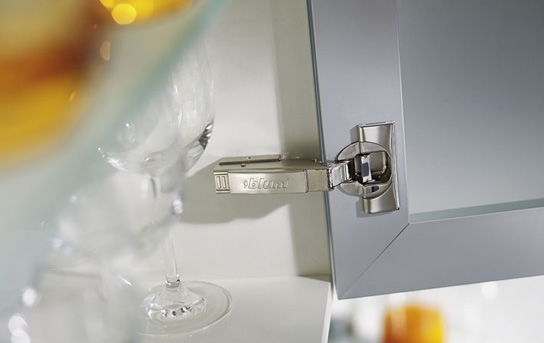 Blum Drawers
Blum TANDEMBOX drawer system guarantee's a feather-light coast. Ideal for larger drawers the Blum drawer system is designed to suit up to 65 kg capacity. Stringent lab testing ensures they will last for the life of your kitchen (and probably longer). The Blum TANDEMBOX system will also fully extend for easy accessibility to all areas of the drawer. Blum also has a high-quality METABOX system which uses strong materials and few parts to provide a versatile drawer for all applications.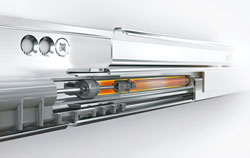 Blum Drawers - for Wooden Drawers
Blum has several runner systems for wooden drawers:
Blum MOVENTO - Low opening force, 4-dimensional front adjustment, carrying capacity of 40 kg to 60 kg whilst minimising sag and stability.
Blum TANDEM - Concealed runner system, feather-light glide, locking device
Blum STANDARD - Few components (less can go wrong), single or full-extension, hard wearing.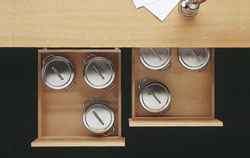 Blum Lift Systems
Blum AVENTOS lift systems are designed for high and mid-wall cabinets. A variety of designs cater for your desired opening method.
Blum AVENTOS HF - Blum's award-winning bifold cabinet door fitting system
Blum AVENTOS HS - Ideal for large fronted cabinets, has an 'up and over' opening system
Blum AVENTOS HL - Has an 'up and out' lift system, ideal for cabinets with other cabinets above.
Blum AVENTOS HK - Ideal for above the fridge or other fitted cabinets, great for small spaces, front pivots up.
Blum AVENTOS HK-S - Great for small cabinets, front pivots up, easy to access cabinet interior.
All these systems are available with Blum Soft Close for effortless closing and Blum Servo-Drive for single touch automatic opening and closing.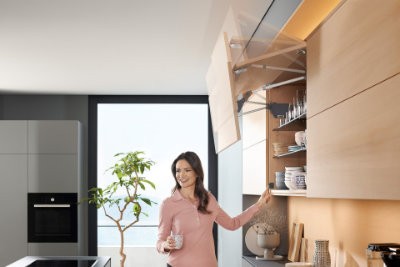 Blum Inner Dividing Systems
Blum ORGA-LINE is an inner dividing system which allows you to store all your items neatly. Adaptable to cutlery, plates, pots and pans, herbs and spices or your DVD collection, whatever your storage needs. Manufactured from high-quality stainless steel the containers and dividers are easily removed and are dishwasher safe for easy cleaning.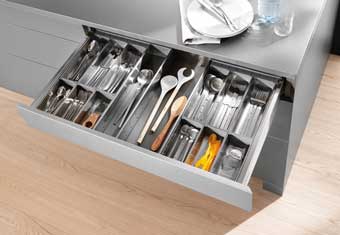 All of these Blum products can be incorporated into your new kitchen design by Haddon Kitchens, Brisbane Cabinet Makers.
Contact us on 3204 0399 or complete our Enquiry Form to have Blum perfect motion in your kitchen.