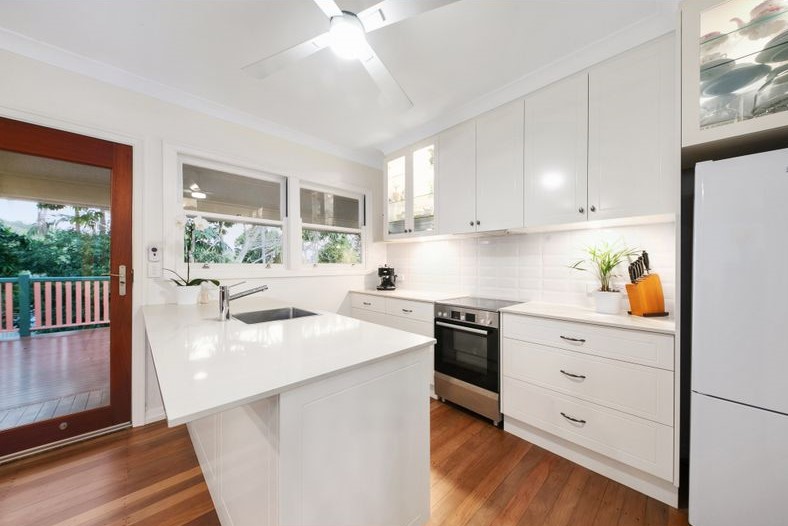 Small Kitchen Design Ideas
Published: December 16, 2021 Last Updated: August 16, 2022
Small kitchen renovations require innovative thinking and smart planning to ensure the finished kitchen has room for everything and is a great place to work. The good news is with the latest in cabinet design, kitchen innovation and clever small kitchen construction ideas you can have a kitchen with all the benefits of a larger space.
Perfect placement
Working out the best place for everything in your kitchen should be your first task. Think about how you work in your existing kitchen, and really critique how it flows. Items you use the most need to be within easy reach. This will differ slightly with every household depending on how you use your kitchen, what you cook and who uses the space.
Make a list of what you don't like about working in your kitchen (also use your experiences from previous kitchens). This will help to design a kitchen you'll enjoy being in. Things to consider:
storage - hard to access cabinets, easily disorganised areas, lack of storage space for certain items such as dry food or plastic containers, unused space
appliance placement - ease of use, height, useful room around the appliance (such as bench space next to the stovetop)
flow - how do you move through the kitchen when you cook, the work triangle (placement of the sink, stovetop and fridge)
light - where is the light coming from, do you work in your own shadow, avoid dark areas in the kitchen space
clean - areas which are difficult to keep clean, surfaces that harbour dirt, dust and grease
From this make a list of the important aspects you want in your new kitchen, areas you are happy to compromise and bits you can live with.
Clever cabinet design
If you have been living with an old kitchen for many years you'll be impressed with the advances in cabinetry design. No longer limited to a drawer for the cutlery and cabinets for the plates, new innovation in kitchen cabinets includes aspects like:
large deep drawers - to store dinner plates, pots and pans or even pantry items
wide slim drawers - for the spices or small items like knives
side out cabinets - either all the shelving sides out together or individual shelves roll out for ease of access
appliance tower - tall cabinet designed to store small appliances such as the toaster, blender, sandwich press, etc
pull out cutting board - or extra bench space, ideally positioned near the rubbish bin
vertical partitions - vertically partitioned cabinets for large platters or trays
bench height cabinet with roller doors - ideal for items which get used often, such as the toaster, kettle or coffee machine
drawers within the pantry - to avoid losing stuff in the back corners
microwave cabinet - clear valuable benchtop space
pull out rubbish bin drawer - no need to use floor space for the bin
corner drawers - avoid the nightmare of every kitchen, the corner cabinet, by installing corner drawers
charging station - tame the charging station mess by including a drawer or cabinet space with internal USB ports or power points for the phone, tablet, etc charging.
kickboard drawer - make the most of every space by utilising the kickboard area for storage
Continuing the cabinets to the ceiling provides extra storage for kitchen items which are only used occasionally, plus it draws the eye upward.

Cut the clutter
Make the move to your new kitchen by de-cluttering of all the things you don't use. Small kitchens quickly fill and overflow if you don't continually cull the unnecessary bits. This will also help identify how much space you really need in the new kitchen, and for what.
An uncluttered kitchen is also easier to clean. Keeping the benchtops clear ensures a quick clean-up after each meal and stops a small kitchen from looking even smaller.
Open space
As well as utilising these ingenious cabinet ideas here are a few other tips for adding the feeling of space to your small kitchen.
light colours - the use of colour to expand a space is not a new idea, however, it is worth mentioning as it works so well in a small kitchen. Block white or light colour areas help to reflect the available natural light, meaning less need for artificial lighting during the day and better use of lighting during the night.
reflective surfaces - using a gloss finish for your surfaces such as cabinet doors, glass splashbacks or polished benchtops will also reflect the light helping to create the perception of space.
natural light - optimise the natural light in your kitchen to keep it 'light and airy'. Where possible avoid curtains, vertical or Venetian blinds which can create a fussy feel. If your kitchen doesn't have a window which lets in plenty of light consider a skylight to brighten things up.
open shelving - great for storage of often used items, cookbooks or display
stow away - a breakfast bar is a great functional addition to your kitchen, choosing seats which tuck under the benchtop streamlines the area
Beautiful features
Your small kitchen doesn't need to be boring and clinical, use feature aspects such as an interesting light fitting, a bright splashback, a flash of colour in one or two cabinets or detail in the door panelling to draw the eye. Your feature can be almost anything you like.
Consult the professionals
Getting advice from kitchen design professionals can provide lots of much needed, and often unconsidered, design ideas. Don't be afraid to bounce your plan off someone who does it for a living.
For more info on kitchen renovations take a look at our kitchen pages. This video shows one of our latest small kitchen renovation projects from start to finish - more on this great small kitchen design - Small Kitchen Transformation