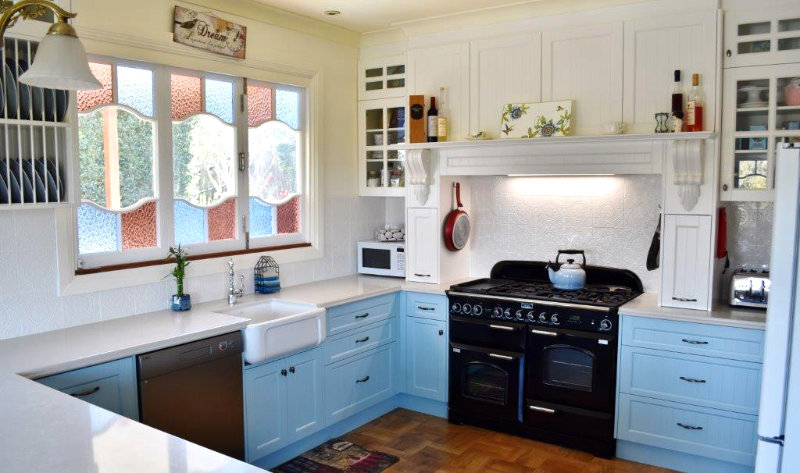 Rangehood - Get the right kitchen range hood for your design
Published: December 16, 2021 Last Updated: August 16, 2022
Whether you use your cooktop every day or once a week, installing the right rangehood for your needs when designing your kitchen renovation is essential. Too small and steam, fat and cooking smells will circulate around your kitchen resulting in a stale kitchen odour. Too large and the heating of your cooktop could be affected, the noise of a large exhaust in a small kitchen could be overwhelming and unnecessary power will be wasted.
There are three styles of rangehood to consider -
Fixed rangehoods
Retractable rangehoods
Canopy rangehoods
Within these styles are the choice of ducted or recirculating modes.
Fixed Rangehood
Covering most of the hotplate area the fixed rangehood is affordable and provides good extraction in either ducted or recirculating modes. This wall-mounted option is ideal if you have space above the cooktop (no cabinets or high cabinets) and room for the hood directly out from the stove as they tend to protrude into the kitchen area.

Retractable Rangehood
This style is compact and stores away when not in use. Great for small kitchens or kitchens with over-bench cabinets. Some models have auto start when the unit is slid out. As the steam collection area is smaller this design is not as efficient at removing steam, smoke and fat.
Canopy Rangehood
The canopy rangehood is the best design for extracting a large amount of cooking steam, smoke and oil. If you have the space and the budget these are ideal for the home entertainer or those cooking for a large family. A versatile design, they are able to be fitted onto a wall or over an island bench cooktop.
Rangehood Features
Modern rangehoods offer many different standards or added features-
Most have variable speed extraction (usually 3 speeds)
Intense or booster fan setting - increases the speed for a short time
Lighting can vary from incandescent, halogen, fluorescent or LED
Silent or low noise models either insulate the motor or place to motor towards the external outlet
Dishwasher safe filters
Recirculating models are fitted with carbon filters which need to be replaced periodically.
Filter clean reminders
Digital display
Adjustable rangehood height
Some 'top of the range' brands produce rangehoods which communicate with the cooktop to modulate the fan settings according to cooking levels.
Stylish use of stainless steel and glass has taken the rangehood from function to feature in modern kitchens.
Haddon Kitchens can incorporate your chosen rangehood into your new kitchen design.